The original owner was a travel enthusiast—hence the fact that each room is named and styled after a different city or region of the world. Each room is unique, and this is something we wanted to respect when we took over, among other things because we thought it was a marvellous idea which bestowed a very special personality on the guesthouse.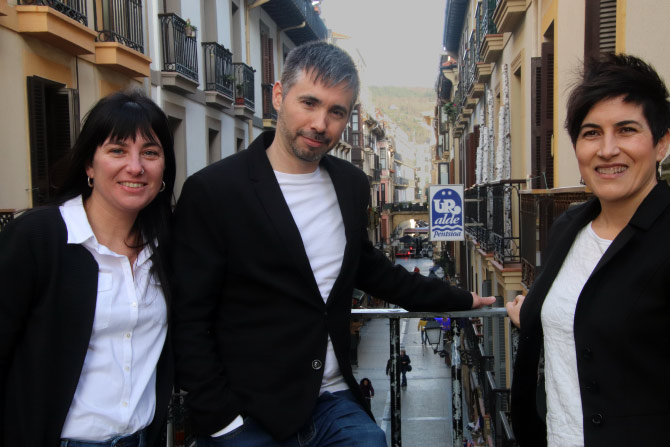 My name is Aritz and you will find me at the Ur-Alde Guesthouse, ready to tell you the story of the room you are about to stay in. Because, at the end of the day, what is life without a story? You'll also (needless to say) find me supervising everything in order to ensure that you feel completely at home. Because that's what it's all about. We want you to feel as good as you do in your own home - or even better!
My father chose the current name of the establishment (Ur-Alde). If you are not from around here, then I should tell you that Ur means 'water' in Basque; and Alde means 'area'. So Ur-Alde means 'area with or near water'.
My aita (that's the Basque word for 'father') spent his whole life working in the catering industry, starting at the outdoor bar run by my grandparents in their farmhouse, which was called Uralde and was located in another part of the city that used to be marshland. Hence my father's choice of name for the guesthouse. It's a name filled with nostalgia and imbued with strong roots, because it reminded him of where he used to live - next to the sea and beaches of San Sebastián.
And this is where I come in with my passion for film and photography. The corridors of the guesthouse are lined with photographs of film stars I have taken over the years during the city's Film Festival. They are designed to bring you closer to the culture of this unique city. They are for you, you travellers who have placed your trust in us and who allow us to talk to you as if you were members of our family, from the moment you set foot in the Ur-Alde Guesthouse.
After studying tourism at university, I worked in another hotel in the city for 10 years before investing my heart and soul in Ur-Alde. So, basically, I have been working in the field of tourism in my native city, San Sebastián, for nearly 20 years now. Doesn't time fly? But it means that we can provide you, our guests and travellers, with everything you need or want to know.
But I can't sign off without telling you about the rest of my team. We are a small group of people, but we have a huge heart and are extremely professional, with a vast knowledge of our city and local culture.
Mireia and Maider are local girls. This is us, a team of generous, committed people who are passionate about what we do and will try our best to make your stay with us both memorable and unique.
Come visit us, why don't you? We'd love to show you our city, with its cuisine, its culture, its beaches and its streets. We'd love for you to become part of our family. When you arrive, please make yourself at home.